Larry Fogel
was born in Florida and came to Israel with his family at the age of 12. He fell in love with the guitar at the age of 11, and taking to the piano as well, developed his talent on both instruments. Larry's affection for folk music began in 3rd grade literature class, when he was taught one of Simon & Garfunkel's tunes - "Feelin' Groovy".

He started performing in school parties during senior high. His first performance was in front of an audience of around 400 people, with an unamplified acoustic guitar and a vocal microphone. During his mandatory military service in the Israeli Air Force he was always with a guitar ready for social entertainment. (During basic training, a rumor spread that he was Paul Simon's younger brother – and everyone believed it was true!)

When Larry was released from the army, he began performing at clubs in Tel Aviv like "Briza", the "Asam" (managed by Matti Caspi and Arik Sinai), the "Bikta" (managed by Danny Litani) and other popular places singing songs by Simon & Garfunkel, Bob Dylan, Don McLean, James Taylor, Crosby Stills Nash & Young and more.

Afterwards, Larry stopped performing for a very long time to build a career in hotel/tourism/retail management, and to raise a family. In 2003, he returned to the music scene and started performing at folk clubs around the country, where American folk music is played and sung, including taking part in the "Jacob's Ladder" bi-annual folk festival. Between 2004 and 2011 he also appeared with Moni Arnon (from the Israeli "Brothers and Sisters" group) in a successful "Simon & Garfunkel" tribute show.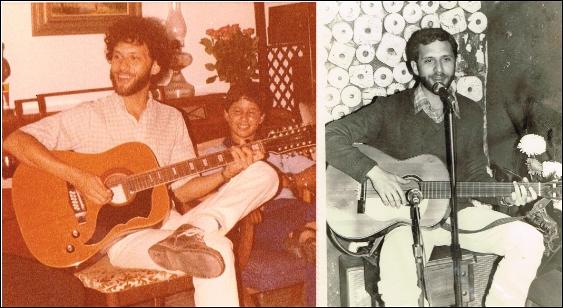 Both pictures are from 1982 - the picture on right is from a performance in Omar Khayam, Old Yaffo.
Mindy Fogel
was born in New York and moved to Florida when she was 10 years old. She moved to Israel on her own for Zionistic reasons at the age of 19. From the age of 14 till she immigrated to Israel she was lead singer in a Jewish music group that performed all over the USA and Canada.

Mindy studied nursing and social work at Hebrew University in Jerusalem and later also studied to be a Veterinary Technician. For 10 years, she worked as Import Manager at a well-known computer hardware corporation, and later developed a freelance career in translating.

Throughout the years singing remained Mindy's love and she performed at parties and functions of friends and colleagues singing songs by Judy Collins, Barbra Streisand, Billy Joel, Rita, Beatles and more. She was also a member of a local theatre group. She plays piano, flute and guitar.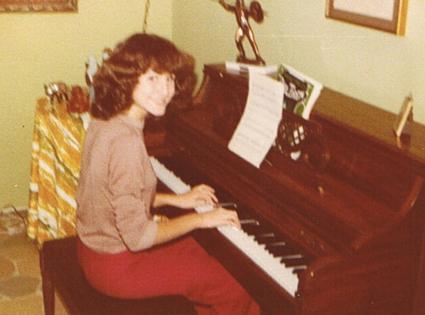 Larry and Mindy
met in January 2006, and since then they've been happily performing all over the country and abroad (including at the prestigious Isle of Wight Festival in the UK in June 2008) doing various shows, especially the wonderful songs of the 60's and 70's.

Together with that, they have two CD's of their own original songs, "Two Hearts One Beat" (May 2007), and "EBTB" (May 2009).

Larry and Mindy were lovingly married in May 2009. Yay!! They live happily in the beautiful Galilee mountains, in the dream house that they built, in a ravishingly gorgeous organic garden, together with their two dogs and a cat.