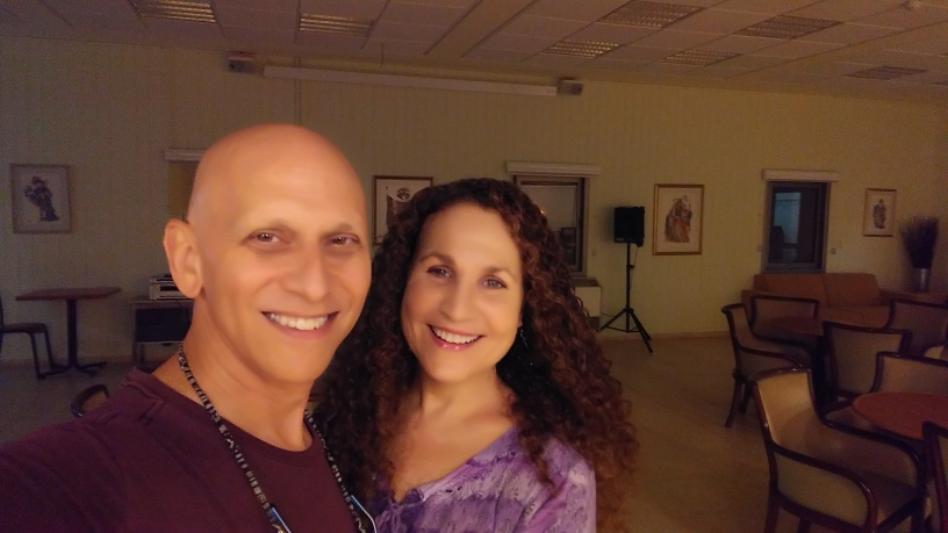 A few weeks ago, during Sukkot, we did a show in a place that is very sentimental for us – the beautiful Kibbutz Ruhama in the Negev. The moadon at Kibbutz Ruhama was the first place that we ever performed together way back when - on February 10th, 2006. It was wonderful to return and perform for the members of Ruhama once again. We were also happy to see that their moadon has undergone a lovely renovation.
But Ruhama is more than just a nostalgic place for us personally – it is also a kibbutz with a fascinating history. The original settlement, established in 1911, is considered the first modern Jewish settlement in the Negev. An artesian well was dug in 1912, and a rather plentiful supply of water was found at a depth of fifty meters. The initial settlers were expelled by the Ottoman Empire in 1917, but the artesian well prompted the Allied forces under General Allenby to select Ruhama as their headquarters from which base the British Army conquered Palestine.
Two subsequent attempts to re-establish the settlement during the period of the British Mandate were curtailed by the Arab riots in 1929 and 1936. The kibbutz was eventually successfully re-established in 1944 and grew to a population of 399. Between 1949 and 1950 a group of young immigrants from Italy joined the kibbutz. In 1956, the settlement was connected to the national electricity grid!
In 1983, a small museum was opened in the remains of the first original building, with exhibits on the history of Ruhama. Next to the building is a display of farm tools. Near Ruhama there was also an Arab village called Gama, which was abandoned during the War of Independence. In 1958, an archaeological excavation uncovered the remains of a Byzantine monastery with a mosaic floor there.
In 2006, a group of the older, diehard communist ideologues blocked an attempt by the younger, more liberal members of Ruhama to establish a synagogue. Later on, in 2012 a synagogue was indeed established in Ruhama to commemorate a boy who was killed by a missile attack near Gaza.
So on your next trip to the Negev, consider visiting the delightful – and we think romantic – Kibbutz Ruhama.